This is not a typical post for me but Mike & I heard such
a great
show on exposing the Antichrist I wanted to link to it. It's nearly 2 hours so appropriate your time accordingly. Wed. nights show is on Daniel, 7 pm
cst
. I'm not great at hyperlinking, sorry.

Bush bows to the Antichrist



Obama bows to the Antichrist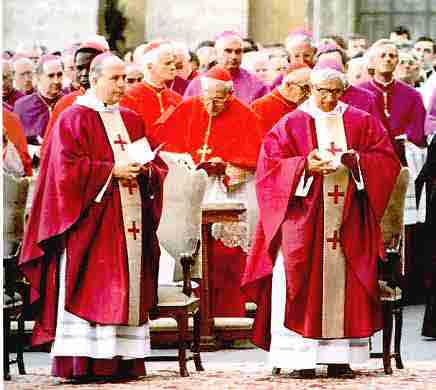 "And the woman was arrayed in purple and scarlet colour, and decked with gold and precious stones and pearls, having a golden cup in her hand full of abominations and filthiness of her fornication" (Revelation 17:4)



Arrayed in Scarlet and Purple... The Pope and The Archbishop of Canterbury
of the Church of England.


Having a Golden Cup in her Hand



The Beast with 3 crowns. Vicarius Filii Dei
(Instead of, or "in the place of" the Son of God)




Opinion of the Reformers on the Identity of the Antichrist
The Doctrine of the Papal Antichrist
The Testimony of History Against Antichrist
The Catholic Origins of

Preterism

& Futurism
Early Church Fathers on the Timing & Advent of Antichrist