AHHHHH, IT'S FINISHED!!! I finally finished Charlotte's dress, & though it's a very small dress, the way I get to things it still took a month to finish. She kept wanting to wear it before it was anywhere near done, that tickled my vanity to no end. I made it big enough so that DV it'll last 2 years before being handed down. Provided it outlasts the washings. I committed the cardinal sin of dressmaking & neglected to prewash my fabric before hand. This is actually not the first time I've made this dress, it's a Common Sense pattern, the Empire dress.
http://www.commonsensepatterns.com/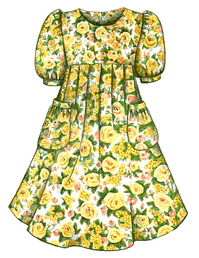 Yes, they are different now. But this is the first dress I made w/ it.


Goodness, she's gotten so big, I took that picture last fall, that dress is nearly to her knees now. Sigh. Anyways, it was good practice & I found out my true thoughts about the pattern. I don't like it. Rather I like the picture of it, just not the dress I made. It could be the fabric, it was some quilting cotton I had left over. No I don't quilt, I just like the prints. This has led Mike to remark that several of my dresses make me look like a tablecloth. I have a hard time visualizing to the finished product. End rabbit trail.

The first dress looks like a tropical prairie ball dress from the 80's. (The new one is a modern tropical ball dress? I liked the colors for her.) The puffed sleeves are very puffy. The back ties were too short though I used the largest size the pattern had.I don't know what I did, but that neckline is very tight to pull over the head & it's a little low in the back, kind of a little girls regency (think 1810's) neckline. I forgot the interfacing at the neckline for this one too, all of my creations have a fairly big flaw, though I'm finally (somewhere around 10 creations later) making smaller & fewer mistakes. So here's her new dress:


This is the dress where I have finally felt myself to be creative master & confident enough to hack at a pattern. Like anything I make for her, it starts out ankle length so it can grow w/ her. I'm figuring on putting 1 or 2 tucks in it later on, but I really wanted to give it to her since she was stroking it every time she walked by proclaiming "Ress!" Mike hated the sleeves so I ommitted them entirely & tried my hand at bias binding. That's what all the blue edges are called. What a pain that is! I made them too narrow, & so had to redo them several times, but it worked out. I don't know what kind of fabric it is, I lost the slip; it's some kind of stiff weave. It felt as if it could get sweaty so instead of the interfacing, I just lined the bodice w/ cotton broadcloth, the same as her bias trim & sash.
The neckline is plenty big now & was something else I learned I could do. It's ok. to draw your own pattern pieces! Like the pockets. She loves pockets & goes around chanting "Pockie, pockie", hands in her pockets, but not in front pockets, so those had to go too. I made side seam pockets out of the same broadcloth. The sash I drew & made was actually too big for the bodice, it went right up past the armholes so I gathered it at the middle & side seams. It's my favorite part of the dress.
She & daddy were very pleased w/ the dress & I've decided that's why I like sewing. My food gets eaten up, my clean house never stays that way, but making something w/ your hands is a concrete testament of your diligence & creativity. No wonder our foremothers indulged in fancy work. I've not got the patience for it, though I'd like to someday.